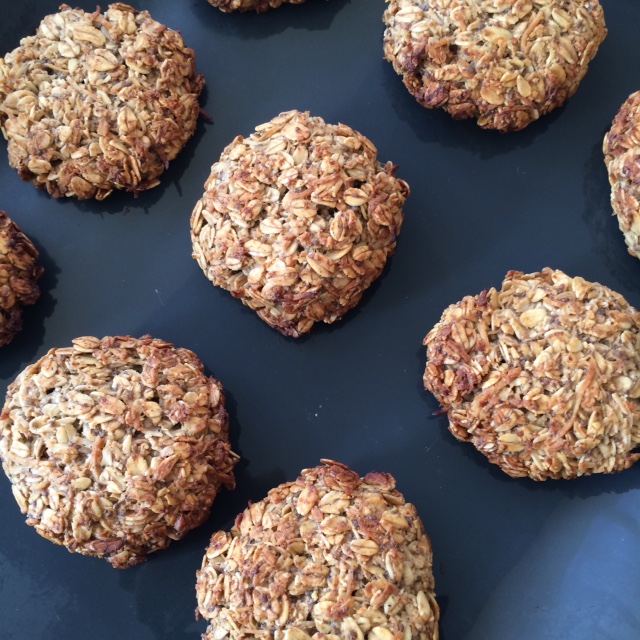 These cookies are delicious, easy to make, and suitable for breakfast or a snack. They make a great post workout snack as they are packed with healthy carbs to restore the glycogen and some protein to repair the muscles.  They freeze well, so if you like them, make up a double batch and freeze some for next week !
2 cups of Rolled Oats ( use whole oats, not Quick Oats)
2 very ripe bananas (about 180  grams)  – mashed or puree in a blender
1/2 cup desiccated coconut
2 Tbs of Maple Syrup or Rice Malt Syrup
2 Tbs of Chia seeds
1/2 tsp ground cinnamon
1 tsp vanilla paste or 1 tsp of vanilla powder
1/4 cup melted butter or coconut oil.
Mix all ingredients in a bowl and mix well with your hands. It might take a few minutes to get the mixture to start to bind together ( if its really wet and some more chia seeds – it depends a bit on your bananas ! )
Using the palm of your hand, form the mixture into balls, then gently flatten and place on a lined baking tray
It should make about 10 cookies.  Bake in a moderate oven for 30-35 mins. Allow to cool the enjoy !