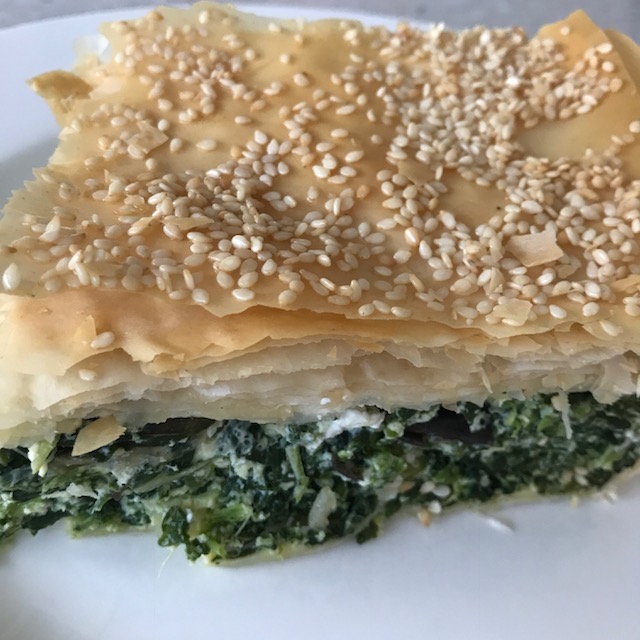 This is a very simple dish – perfect for a midweek family dinner, and leftovers are great for lunch the next day. You can make it up ahead of time, even the day before. It's perfect warm, at room temp, or even cold. Don't stress on quantities of the ingredients- just throw it all in, cook and enjoy !
What you need:
8 Eggs
250gm tub of full fat ricotta cheese
400 – 500gms of cooked chopped spinach (silver beet) . You can use the frozen packets, or buy a bunch of silver beet and blanch yourself. If you are using frozen, defrost first, then squeeze out excess water.
1 x 150gm packet feta
2 spring onions – finely sliced ( optional)
1 packet filo pastry
Olive Oil and Sesame Seeds
What you do:
In a large bowl whisk eggs and then add in ricotta, crumbled feta, spinach and shallots. Mix until combined. Line a large dish with sheets of filo , with it overhanging on all four sides. You will use about 8 sheets for this. I do it 2 sheets at a time. Then pour in mixture in, fold overhanging filo onto top of mixture. Brushing some olive oil between a few of the layers. Then add 4-6 more layers on fill on top, brushing with olive oil between every second layer. Sprinkle sesame seeds or poppy seeds on top, and bake in a moderate (160) oven for about 50 minutes, let it rest for at least 30 mins before serving so it can set – otherwise it will be a bit sloppy.